昨天入手了這【Turtle Beach Ear Force X41 Dolby 7.1 Wireless Gaming Headset】無線耳機,它是專為Xbox360設計的。
雖然一直用SteelSeries的耳機來打機,但是有3個問題比較困擾,一是mic的聲音太少,朋友經常說聽不到我說話;二是它的有線連接是否麻煩,好幾條線接駁不美觀而且很阻礙;遊戲音量比較小,即使最大音量還是屬於一般音量。特別是第一點,是最大的問題。
直到昨天逛街的時候在遊戲店看到這個Ear Force X41,因為之前朋友介紹過這個耳機是360專用而且效果不俗,只是價錢很高而且這裡沒有代理,所以比較難買。心血來潮之下就買了下來,但要付出HKD1690大洋啊!太心疼了!
回來測試了一下,結果效果真的很好!有點出乎意料呢!
這裡先暫停一下,先看看這個耳機的配置和功能吧。
Turtle Beach Ear Force X41 Dolby 7.1 Wireless Gaming Headset
?

Dolby 7.1 Surround Sound & Dolby Pro Logic IIx with Digital RF wireless technology (up to 30' range) CD-quality pure-digital sound transmission Digital input "pass thru" allows the X41 and a home theater system to be connected simultaneously

?

Volume control on ear cup Independent game & chat volumes Built-in mic monitoring Mic mute Bass Boost (button on ear cup) Oversized ear cups Fabric mesh ear cushions Removable mic with flexible boom Headset powered by AAA batteries (over 20 hours)

?

Transmitter powered by USB (no AC adapter) Includes headphone output on transmitter (second set of headphones can be used simultaneously or in place of X headset) Chat Boost feature automatically increases incoming chat level as game sound increases

?

50mm oversized speakers for deeper bass response

功能簡介


Ear Force X41 Headset - Unique Gaming Features
Enjoy Dolby? Digital 7.1 Surround Sound with your favorite games and DVD movies

內置杜比7.1聲道,完全體現遊戲電影的聲效,倍添氣氛
Dolby Pro Logic? IIx reproduces full-range special effects in the surround channels and enhances stereo sound
Dolby Pro Logic技術優化環回立體聲聲效

Digital RF wireless technology provides CD-quality game sound and crystal-clear reception
RF數碼無線技術,提供CD音質聲效和更加清晰的接收
Chat Boost

?

dynamic talkback expander automatically increases incoming chat volume during loud game sequences

Chat Boost技術能夠動態地自動增加遊戲中的交談音量,隨著遊戲的音量增加,交談的音量也隨著提高。
Eliminates game sounds picked up by chat mic
當你拿起話筒說話時候,系統會消除降低遊戲聲音,令到談話更加暢順
Independent controls for game audio and chat volumes
獨立控制遊戲聲音與交談聲音
Mic Monitor mixes your voice into the headphones so you can hear what you're saying
Mic控制系統混合聲音進去耳機,所以可以清晰地聽到自己的談話
Hear XBOX LIVE chat plus game sound
可以同時聽到Xbox Live交談已經遊戲聲音
Heart-thumping bass boost adds sonic realism
更加強烈的重低音 效果更逼真
Digital input for highest XBOX sound quality, plus analog input for TV and other audio sources
更高的Xbox聲音質量數字輸入,加上模擬輸入的電視或者其他音頻功能




Dolby 7.1 Channel
Surround Sound

The Ear Force X41 transmitter uses a 150MPS Digital Signal Processor (DSP) to deliver genuine Dolby Digital, Dolby Pro Logic? IIx, and Dolby Headphone surround processing technologies—the industry-standard formats for encoding multi-channel sound in XBOX 360? games and DVD movies. The X41 uses the latest version of Dolby technology to create realistic game sound in 7.1 channels for improved surround sound accuracy. Dolby Headphone audio processing recreates the sound of 7.1 channel speakers with the X41 headset, so you can hear every nuance in the game audio 360 degrees all around you — without disturbing anyone else in the room. Dolby surround sound adds incredible realism to your gaming experience. With action games, like Call of Duty 4? Modern Warfare?, HALO? 3, Left 4 Dead? and Grand Theft Auto? IV, you can hear exactly where your enemies are coming from and react faster and more accurately. With interactive games, like Guitar Hero? or Rock Band?, you can hear subtle details in the music and sound cues that are missed on speakers, drawing you deeper into the experience.

---

Dolby Pro Logic IIx
and Stereo Enhancer

The X41 transmitter incorporates the latest Dolby Pro Logic IIx decoding system for surround sound realism from Dolby PL II encoded audio. When used with stereo sources, the Dolby Pro Logic Decoder also enhances the sound by spreading the stereo signal to provide a "wider" effect. This results in a richer, fuller sound than normal stereo — almost as if it originates from outside of the headphones.

---

2.4GHz Wireless
Digital RF Technology

The Ear Force X41 transmits game audio to the headset with an uncompressed wireless digital radio frequency (RF) signal to deliver CD-quality sound that rivals professional-grade wired headphones. The RF wireless digital technology uses advanced "frequency-hopping" that scans the airwaves for the best signal path to provide a reliable connection even when used around wireless LANs or other RF devices. Best of all, the wireless RF signal does not require "line of sight" to operate. That means you can stand anywhere near your XBOX 360? and hear a clear, noise-free signal.

---

Chat Boost?
Dynamic Talkback Expander

If you've ever had trouble hearing teammates on XBOX Live when the game action heats up, then you know how frustrating it can be when you have to keep adjusting the chat volume. Chat Boost fixes this problem by automatically adjusting the XBOX Live chat level when the game gets louder, so chat from teammates isn't lost in the exciting parts of your game. During normal game volume levels, Chat Boost doesn't affect the chat level. As the game sound gets louder, Chat Boost turns up the chat volume automatically so you can still hear what everyone is saying. When the game volume quiets down, the chat level gradually returns to the normal volume setting. It's a simple solution to an annoying problem, and it all happens automatically – so you don't have to adjust anything!

---

Microphone Monitoring

It's hard to hear yourself speak when a headset is covering your ears, so you tend to talk louder. The X41 corrects this annoyance with its microphone monitoring feature. Just like a telephone, the X41 adds a portion of the microphone signal into the headset signal, so you can hear your voice along with incoming chat and game audio. It's not too loud—just enough so you can sense what you're saying, but not so much that it's distracting. Microphone monitoring not only keeps you from talking too loud, it also eliminates that annoying "clogged ears" feeling when talking while the headset is covering your ears.

---

Bass Boost

The Bass Boost feature produces deep, rich bass tones by increasing the volume of low frequency sounds—just like turning up the volume on the sub-woofer on your home theater system. This improves your gaming experience by kicking-up the sound level of explosions, gun shots and other deep-bass sound effects, making them even more dramatic. Bass Boost is activated by pushing the "Effects" button on the headset.

---

Independent Chat/Game Volumes

Conventional communicator headsets compromise your gaming experience by covering one ear for hearing chat audio and leaving the other ear for hearing game audio pumping from speakers. The X41 overcomes this problem by combining game audio with online chat in a high fidelity headset, so you'll get a better gaming experience with privacy and clarity. Separate volume controls let you adjust the game and chat levels, so you can easily balance them and never have to worry about missing a cue from your teammates.

---

Wired Headphone Connection

The X41 transmitter includes a headphone output jack with volume control to connect an optional pair of wired headphones in addition to the wireless X41 headset. This jack provides the same high-quality Dolby Headphone 7.1 surround sound that's being transmitted to the wireless X41 headset, so two people can hear the game sound at the same time. The volume control for this headphone jack does not change the game sound level heard on the X41 headset, so it can be adjusted separately from the volume control on the X41 headset.

---

Advanced Battery Booster Circuitry

The headset has a "battery booster" circuit that squeezes every last bit of power from the batteries so you'll continue to hear high-fidelity sound until they're completely dead. This allows a pair of AAA Alkaline batteries to last for up to 25 hours of game play. You can also use rechargeable batteries in place of the alkaline batteries.

An automatic shut-off feature means you'll never have to worry about forgetting to shut off the headset to conserve battery power. When you're done playing, just put them down and they'll automatically shut off after a few minutes of silence. The indicator light will flash faster to let you know they're about to shut-down.

---

Powered By USB

The transmitter is powered by a single USB port on your XBOX, or from a nearby PC or laptop. So there is no need to fuss with a separate AC power adapter.


=================================================================
包裝盒正面 比較大盒。包裝盒比較華麗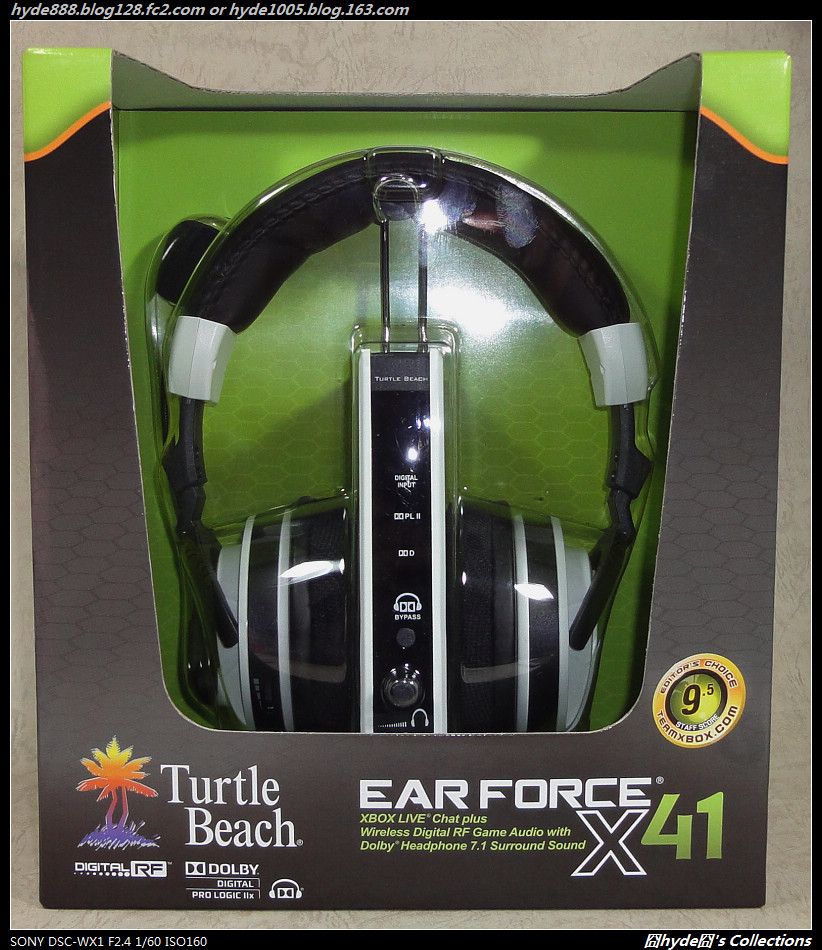 背面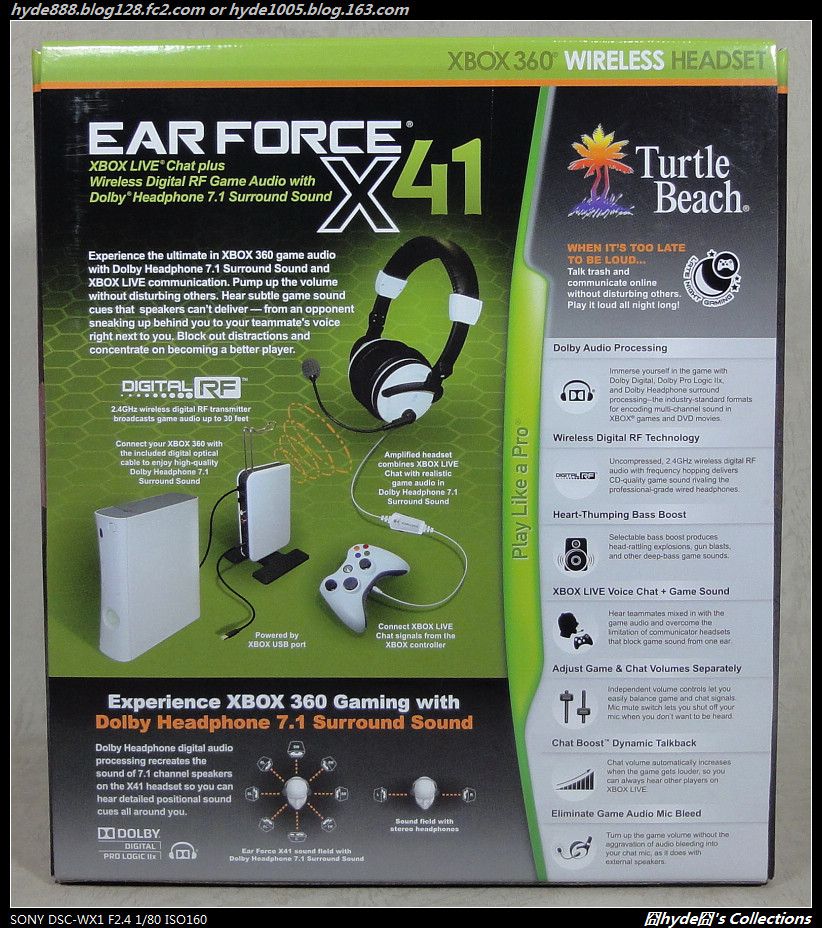 Live Chat線(中,連接Xbox手柄,有獨立聲音控制器)
無線發射器上正面有杜比和Bypass功能切換按鈕,有線聲音輸出接口已經音量控制器

本體側面

電源開關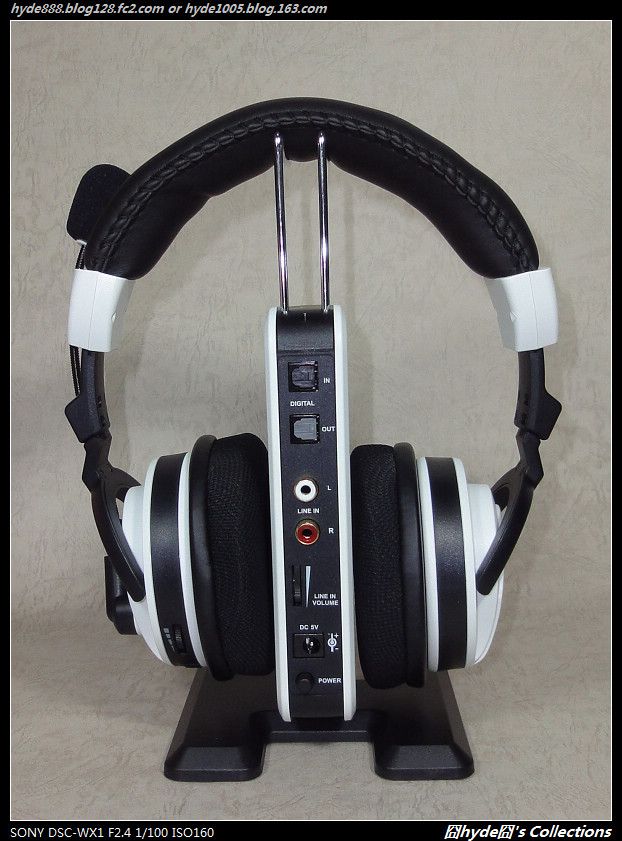 下面的logo打開後可以放置耳機電池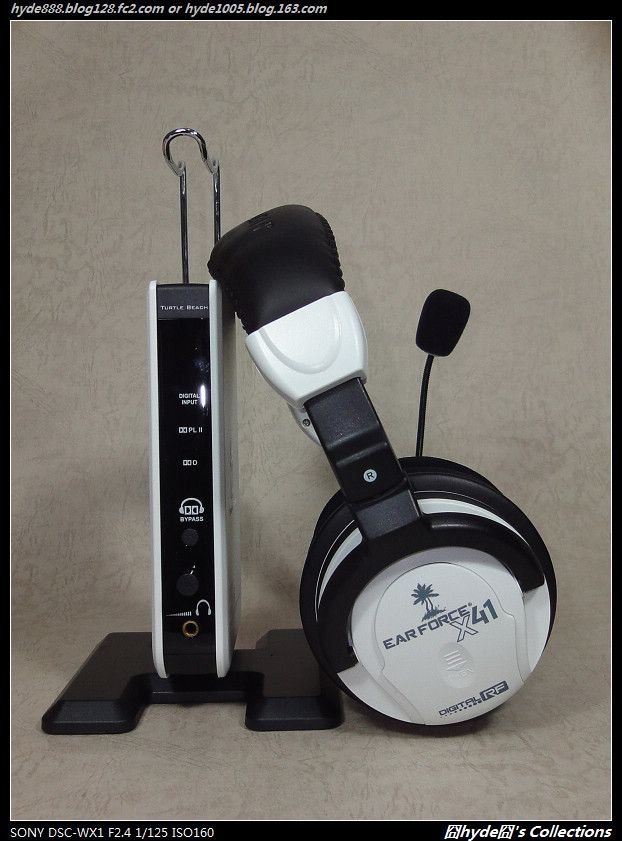 左邊Power:耳機電源開關,按2秒後自動連接無線接收器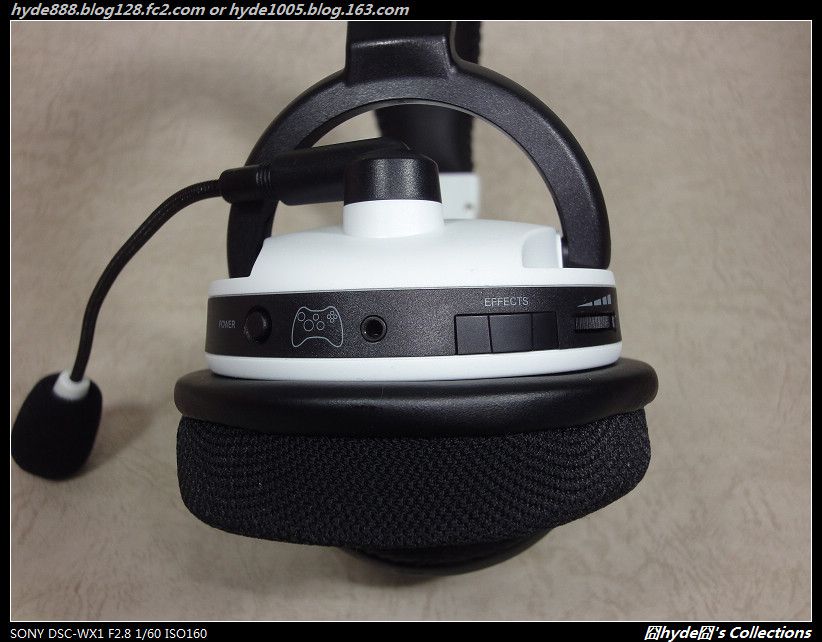 當啟動耳機後,中間的logo會不停閃爍,證明已經成功連接。

用後的感覺非常不錯,音效出色,而且mic也清晰,是目前用過最好的Xbox360專用耳機之一,雖然價格高昂,但是也物有所值。
1. 杜比7.1聲道,而且通過耳機上的音效切換可以有高和低的環回立體聲選擇以供不同的喜好。聲音非常大和清晰,例如玩COD6能夠可以準確判斷敵人的腳步聲來源,定位很好。非常有臨場感,各種不同的音效都可以完美地演繹出來,令人滿意。如果不喜歡杜比的那種環回立體聲,也可以選擇還原默認的聲效,消除增強環回,但是默認的音效一樣清晰有力,蘿蔔青菜各有所好。
2. USB供電,直接重主機USB port供電。
3. 無線耳機 非常方便,用過后你會覺得有線真的是個累贅呢XD
4. 獨立的遊戲音量與Live Chat控制,可以隨心調教2種音量,非常人性化。想起以前的2種音量混在以前不能分開調教,真是痛苦!
5. 動態Chat Boost技術能夠自動增加遊戲中的交談音量,隨著遊戲的音量增加,交談的音量也隨著提高。你絕不會漏聽任何聲音哦!